Cambro offers a wide range of trays, table service and display items, storage, shelving, merchandising and insulated transport products, as well as innovative warewashing systems and healthcare meal delivery solutions.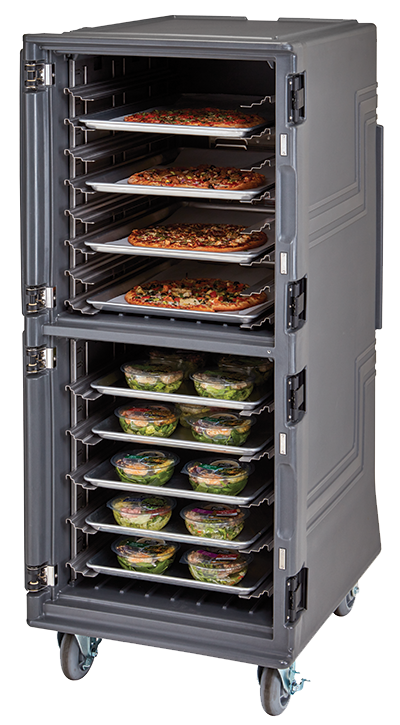 GoBag Large Delivery Backpack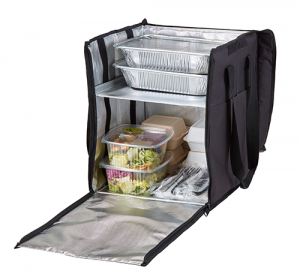 Enjoy extraordinary quality from kitchen to customer, with the Cambro GoBag Delivery Backpack. Delivery personnel can walk or ride hands-free with a choice of two backpack sizes to help food arrive safe and delicious. High-density insulation maintains safe temperatures and freshness inside, with a durable, waterproof exterior for a clean presentation. Comfortable and secure, the Backpack features side-mounted hand straps and adjustable padded shoulder straps with a chest buckle. Safely separate meal items with the included divider, and store utensils, receipts, and other necessities in the large side pocket.
Camwear® – CamSquare® Food Storage Containers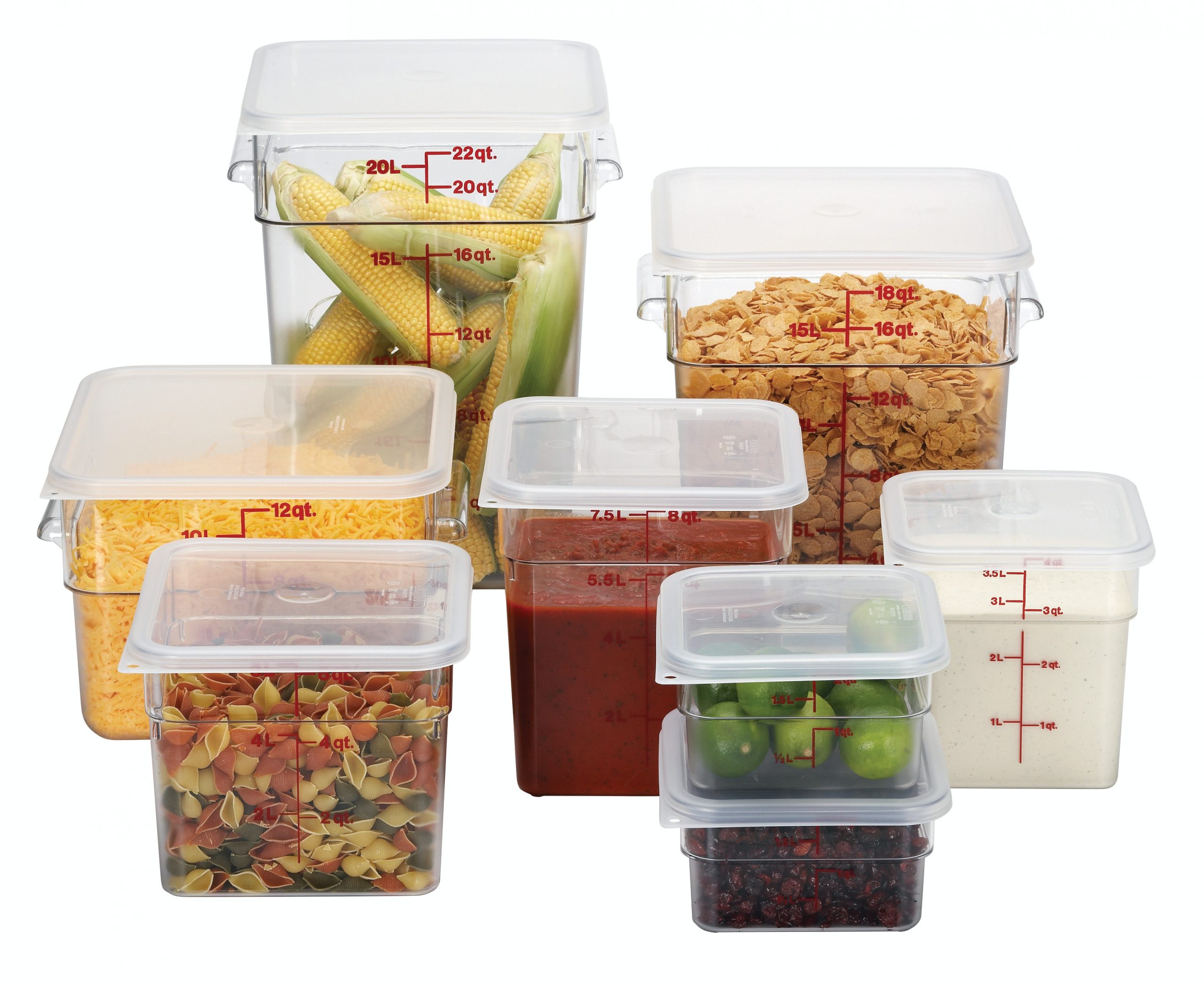 Revolutionize your kitchen with durable Camwear® CamSquare Food Storage, ensuring extra freshness and savings from your ingredients! This crystal-clear design is virtually unbreakable, outstanding for fast paced kitchens. The CamSquare shape also boasts an incredible 33% better space usage than traditional round containers. Withstands temperatures -40°F to 210°F (-40°C to 99°C), acids, stains, and odors for a long-lasting improvement on your storage system. Molded in handles on larger sizes allow both safe carrying and quick drying, while easy-to-read graduations on all options offer at-a-glance inventory. Cambro's snap on covers fit tightly and protect contents from cross contamination. Level your food preparation and storage to a safer, more efficient system with CamSquares!

Camwear® Display Covers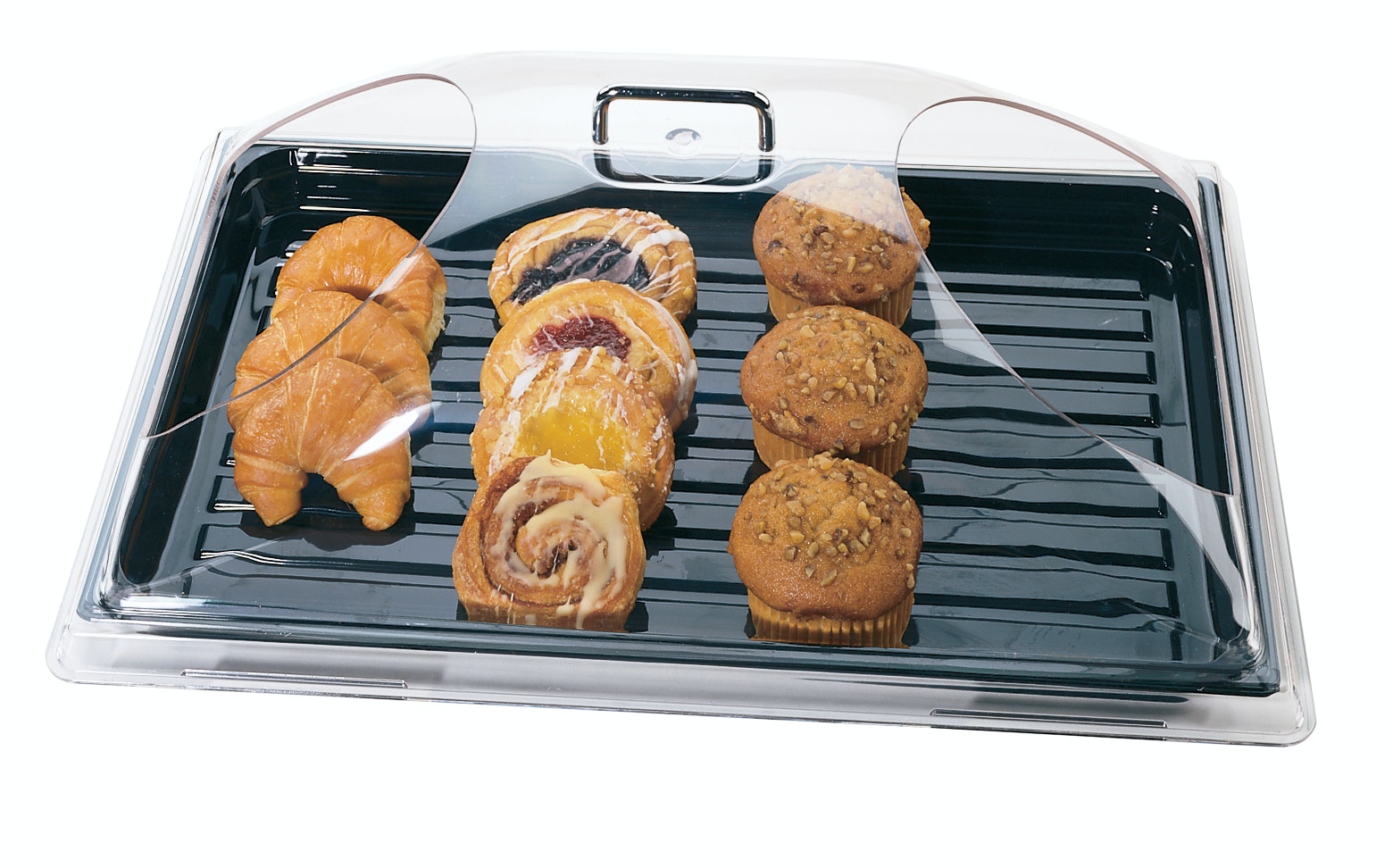 Optimize and protect the presentation of pastries, breads, and desserts with the durable Camwear Display Covers, with a range of choices in style. Designed from virtually unbreakable Camwear with a contemporary chrome handle, these are an ideal solution for bakeries, cafés, and supermarkets. Crystal-clear Camwear mimic the classic appeal of glass with none of the breakage or replacement costs, ensuring lasting service and perfect pastries. Openings on the side or end are available to provide quick and easy access to contents without removing the cover. Include your brand logo or personalized design on the display cover for added value, remaining safe for commercial dishwashers. Invest in freshness for baked items with the enhanced look and protection of Camwear Display Covers!
CAMSHELVING® – Starter Units – Stationary with Vented Shelves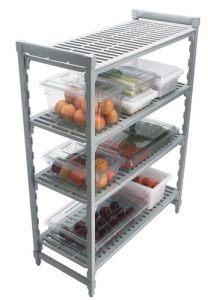 Camshelving Premium Series is built to withstand the harshest storage environments foodservice operations endure regularly. Incredibly easy to assemble and maintain, the Premium Series allows operators to quickly create custom configurations. Designed for high volume foodservice operations, Premium Series holds up to 2,000 lbs per unit, with removable traverses and shelf plates to adjust heights and clean entirely. Shelf plates are protected by molded-in antimicrobial Camguard and are commercial dishwasher safe. The shared post design allows units to share a single post in a straight line without losing weight-bearing capacity.
10 Tray Dual Access Room Service Cart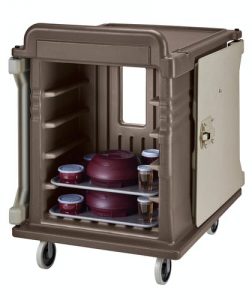 Enhance patient satisfaction by serving high-quality meals efficiently with this insulated Dual Access Meal Delivery Cart from Cambro. A cost-effective alternative to noisy metal carts, molded one-piece from impact-resistant, and easy to clean polyethylene. Ideal for acute care applications, this 10-tray delivery cart has two doors that open a full 270˚, eliminating the need to reach for trays in the back. Equipped with a large molded-in handle to simply and quietly maneuver through the hallways, improving patient rest and recovery quality. Thick CFC-free foam insulation protects meals hot or cold during transport, with self-venting doors to ensure airflow. 
CONTACT US TO LEARN MORE ABOUT CAMBRO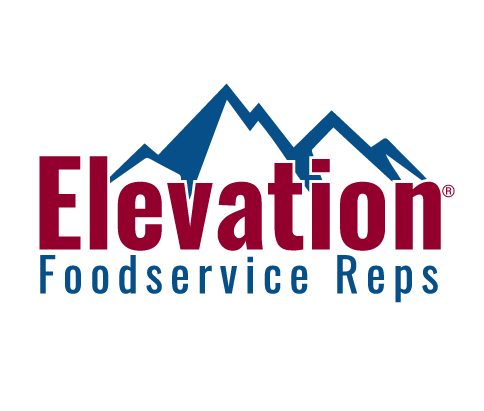 Copyright © 2022 | Elevation® Foodservice Reps